Przy okazji podróży "na Gibraltar i z powrotem" szukaliśmy kempingu we Wrocławiu i okolicach. Udało się znaleźć nocleg w "Camp4you". Sami właściciele określają go jako świetną "bazę wypadową do Wrocławia". Nic dziwnego – do centrum stolicy Dolnego Śląska jest stąd około 15 kilometrów.
"Camp4you" znajduje się przy DK94, więc łatwo do niego dotrzeć. To świetne miejsce dla fanów caravaningu, przede wszystkim ze względu na swoją ogromną powierzchnię. Pomimo bliskości drogi krajowej jest tu bardzo cicho – wszystko za sprawą gęstego lasu, który otacza pole z trzech stron.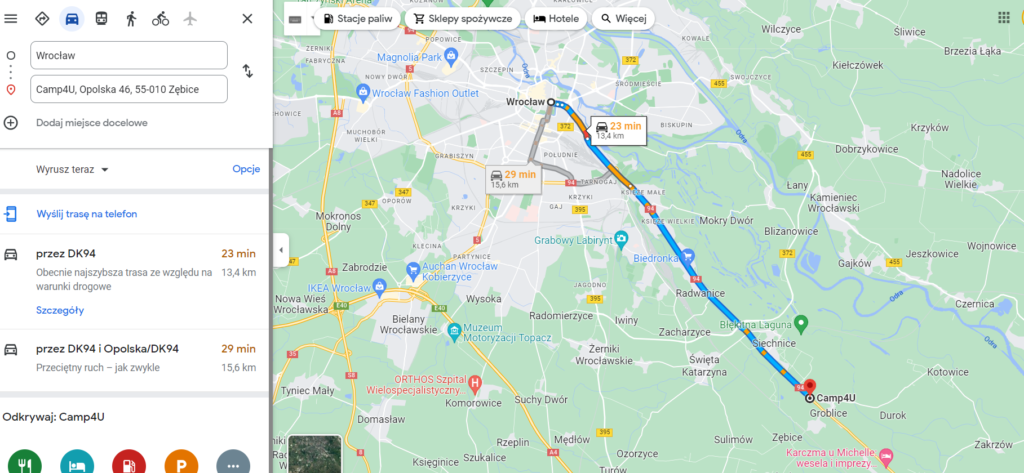 Musimy z zadowoleniem przyznać, że kemping jest prowadzony na wzór zachodni. Mają tu ogromne nowoczesne łazienki, z dużą ilością kabin prysznicowych. Jak na warunki kempingowe jest wręcz sterylnie czysto. Od razu przypomina nam się Camping Konigstein pod Dreznem.
Inne plusy "Camp4you" to nowoczesny punkt recepcyjny, czynny do godziny 22:00 (*można się dogadać, że później otworzy ochroniarz). Dla głodomorów jest budka z fast foodem i ogródkiem – rzecz rzadko spotykana w polskich realiach. Dla bardziej wygodnickich – dużo domków noclegowych 😉 Jedyny minus, który zauważyliśmy – brak przestrzeni kuchennej, która ułatwiłaby zmywanie po obiedzie.